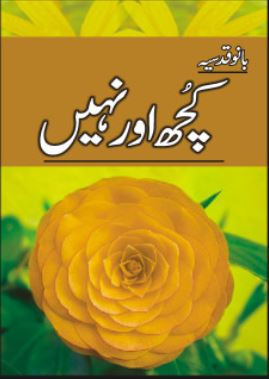 Book: Kuch or Nahi by Bano Qudsia
Kuch or Nahi by Bano Qudsia pdf free download is a novel. Its novel is about a girl who tries to love someone but in return, she gets nothing. Nusrat tries eight times to have a love for someone but most of them were untold. She Was unable to express her love. However, some people do good for others but return they vary fail to get the appreciation of their work. This act is latterly heart wrenching.
In fact, when you get no response to your work next time you are unable to show such efficiency. The same is with Nusrat she loves her family. Although, she always desires that a person to whom she loves will belong to only her. Majeed is also one of them to whom Nusrat loved. But, in return he never able to provide such a response that wants. it's a natural thing to whom you love would never love you. What you respond to others can't give you such a response.
I think we should never return from people Bano Qudsia is known as the best Urdu novelist. Her work was different. She raised voice for women. She was against the modernism. Bano always stressed that women should be obligated to her husband. She graduated from GCU Lahore. Also, completed her master's in Urdu from the same university. Moreover, her husband Ashfaq Ahmad was also a famous Urdu writer.
Her services for Urdu literature are unforgettable. She is renowned internationally. Many of her books were translated into English and to other languages. She has won an award as the best writer for a lifetime. Bano got a hype from her novel Raja Gidh. In Fact, Qudsia is a motivation for many young girls as she maintaines her professional career and as a housewife. She died IN 2017 and buried in Lahore.