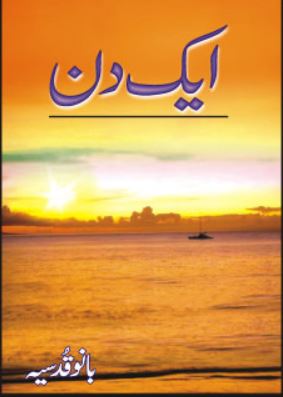 Book: Aik Din by Bano Qudsia
Aik din by Bano Qudsia pdf is the shortest novel written by Bano Qudsia. In this novel, she has written a beautiful story and she summed up all his themes in only in 17 pages. Moreover, this book contains a social perspective also it is a love story. Likewise, the story of the novel starts from a train station where he meets a girl. As well as, he saw different samples of sandhi tradition and culture on the railway station and. He wants to buy a beautiful for her lover but he has not enough money, to buy that pot. Because, Moazzam is a young and beautiful boy who likes her cousin Zarqa she is also an adorable babe.
He was going towards Zarqa in Karachi. Moazzam wants to save money so that he could reach to Karachi. That's why he ignores all the things at the station to save money and not want to buy anything. The writer has beautifully portrayed the picture of that railway station. Bano Qudsia is known as the best Urdu novelist. Her work was absolutely different. She raised voice for women. Because She was against the modernism. Bano always stressed that women should be obligated to her husband.
She was graduated from GCU Lahore. Further, she completed her master's in Urdu from the same university. She is a Ravian. Her husband Mushtaq Ahmad was also a famous Urdu writer. Similarly, her services for Urdu literature are unforgettable. She is renowned internationally. Many of her books were translated into English and to another language. She has won the award as the best writer for a lifetime. Bano got a hype from her novel Raja Gidh. Qudsia is a motivation for many young girls as she maintained her professional career and as a housewife. She died in 2017 and buried in Lahore. Freebooksmaia is providing his writings for free in ebook and pdf form!
***You May Also Like Books by Stephen King***