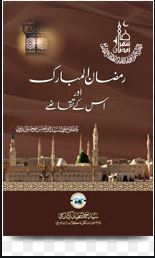 Book: Ramzan ul Mubarak aur uske Taqaze By Abul Hasan
Ramzan ul Mubarak aur uske Taqaze By Abul Hasan pdf free download this book teaches us how could we become perfect in fasting. When you want to get something it demands sacrifices, the same in the case of fasting. Fasting is the name of sacrifices to realize the pain of others. Also, if you have queries about the importance, and how to do fasting this book would be highly helpful. As said by Allah Almighty in the Quran: "O you who believe! Observing al‐sawn (the fasting) is prescribed for you as it was prescribed for those before you, that you may become al‐muttaqoon (the pious)."  
Ramzan-ul-Mubarak is the Holy month of Muslims. They do fasting in this month. As it is compulsory on every Muslim observe fasting. In this month different religious activities are held. People give charity to needy people. Also, they distribute different things in the name of Allah. Ramzan-ul-Mubarak comprises of three parts, each part consists of 10 days. In Arabic it is called "Ashra" means ten days. These parts are "Ashrah Rehmat, Ashrah Maghfirat and Ashrah Nijaat." Moreover, In the first ashrah, we seek blessings of Allah to make our lives better.
In the second Ashrah we seek forgiveness from our sins so that we could be a better human. Further, in the 3rd Ashrah, they pray and seek bail from Hell. Also, in the last ten days of the month, they observe Atikaaf. In this phase, some people quarantine themselves for ten days in Mosques or their houses. The reason behind this to worship Allah and become a more pious man a lot of Abadat they perform. Moreover, Namaz-e-Traweih is a necessary part of this month.
After the Namaz-e-Isha they offer Tarawih comprised of 20 rakah. Allama Abul Hasan Ali Nadwi was a famous Indian Islamic Scholar. He was the Chairman of the Islamic Committee Oxford University in 1980. Moreover, His research work on Quran and Hadith was Awesome. He was a noteworthy personality in his daily life. In fact, A very polite and humble always stressed love and peace.
***You May Also Like Books on Ramzan***