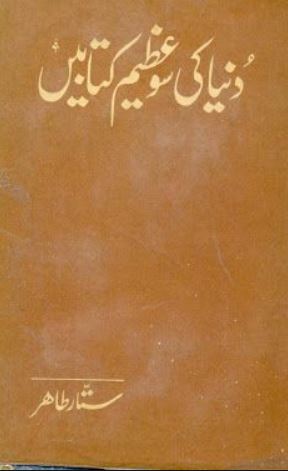 Book: Dunya Ki 100 Azeem Kitbain by Sattar Tahir
Dunya Ki Soo Azeem Kitabain Sattar Tahir pdf free download is a translated version of the English book "the 100 most influential books ever written" by martin Seymour-smith. This book elaborates on the highly-rated books. Moreover, the book is a short introduction to the most popular books in the world. The most interesting thing is that a Cristian writer has placed the Quran as the number one book. Likewise, he placed the Quran on the first number. The Quran is a book that is most studied in the world. Millions of people have remembered this book. But, many other Muslim books are indexed in this book as the best books in the world.
Quran is the holy book of Muslims and is translated into almost all languages of the world. Many universities have completed research on the Quran. Book bunya ki soo Azeem Kitabain also gives a review of other famous books like Kasha ul Mahjoob written by a famous Sufi Hazrat Ali Hajveeri. Guru Granth is also placed on number 6 in the index. Guru Granth is written by the founder of Sikhism Hazrat Baba Guru Nanak. This id the holy book of Sikhism. He has also replaced the book of Dr. Allama Iqbal. A Pakistani local tale story "Heer Waris Shah" is listed in it. Nehjtul Balighah by Hazrat Ali is placed.
The writer Sattar Tahir is a famous Pakistani journalist. He has translated over 200 books from English to Urdu and vice versa. Sattar Tahir was born on 1st May 1940 in Gurdaspur. He died on 25 March 1993 and buried in Lahore. Sattar was editor lo Sitara digest, family digest, and Khawatein digest. He was a notable personality of Pakistani media. His other famous books are Zinda Bhutto Murda Bhutto, Shahzad or faqeer, Do Shehron ki Aik Kahani and Saraye. We are providing you such spiritual stuff for free in ebook and pdf for free!
***You May Also Like Books by Umera Ahmad***